We appreciate your valuable time and we are looking forward to for a job.
We also sell hand made paper sheets in all size and all varieties.
Note – all leather journal and photo album, we can make in Celtic design also
We work with a motive to provide our customers the best craft in the world and till date we are getting the customer satisfaction rewardingly
We are from a small village of Rajasthan in India, and our forefather were employed in the Kingdom of Rajasthan to provide them best journals for their stories, sketch books for their personal sketches, photo albums for their paintings.
I am running an art school, where we discover new craft and place them for rest of the world to provide beautiful and unique products to our customers worldwide. Our students make most of the products, they are great crafter and work with an excitement to renovate products design so that our customers can get new look whenever they visit our manufacturing unit.The most important thing we want is to make a direct approach to our customer, so that we can provide them the best service at the lowest price for our beautiful products.
"Directly from the hand of crafter to the hand of craft lover."


This is made by art student with a hard labour of days. Leather is being embossed with different designs. After that colored and then polished for hours which give this journal a very beautiful and antique look with amazing shine. After embossing, side is done on the edge of leather which increases the strength of cover as well as beauty of work. Paper inside this journal is handmade by 100% cotton and thus makes it environment friendly, as this save tree Paper is bind loose so that you can open it 180 degree, but we use thick thread to bind it to secure the binding last long and handicap students make this for their living and studies. A little change is possible in look of the product as product is 100% handmade.
Paper that we use inside our journals and photo albums is made from cotton waste of the textile mills, waste biomass like grass, jute, husk, waste wool, broken leaves and flower petals etc. which makes the paper environment friendly as this saves trees and preserves our nature, while the normal paper which we use in our offices and home is mill made which is made from wood pulp obtained by cutting the trees and by adding the chemicals and dyes which are very harmful for our environment and leads to greenhouse effect.
Our papers are 100% handmade and to give a forte to paper, we put flower petals in between the two layers of single sheet, which increase the beauty of paper and make it unique.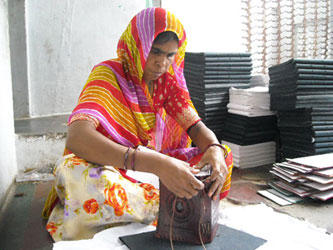 So remember,
"Save tree, use handmade paper."
This can be a very beautiful gift for your love ones.
So what next you are thinking?
Your queries are heartily welcomed.
Paypal, bank, western union, LC accepted.

Check out my other items!
We ship worldwide:
International shipment cost for
Shipment:
Shipment charges include packaging and handling at your door step.
You can save on shipment by purchasing more then one product from my store.
You can also purchase any particular product in bulk and save shipment.